The PaintShop Pro cookbook
370 Tips and tutorials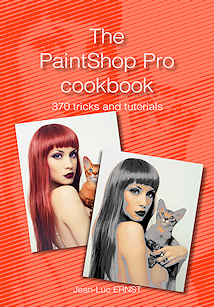 You will find here the illustrations that you can download to perform the exercises described in the book.
If you notice an error or if you are unable to complete a task, please contact the author. He will answer as soon as possible.
This book contains 370 tips, tricks and tutorials for the PaintShop Pro program. It can be used with all versions of the software for tools that have remained the same since version 7. New features are also taken into account, such as the geolocation of photos.
Beginners will find their happiness there by discovering tips from the author's long practice. More experienced users will be interested in the techniques described in the tutorials.
The PSP Cook Book is to be consulted when you need to perform a manipulation that you do not do regularly and whose steps you must remember. This book is a reminder but also allows you to discover the possibilities of PaintShop Pro when you start with the software.
The tutorials often expose several methods to achieve the desired result. The user will be able to use it as a guide to adapt one or the other step and customize the final rendering of his/her images.
This manual can be consulted as a reference book thanks to the table of contents and the index. Whenever possible, the tutorials have been grouped by theme: black and white, scripts, printing, layers, vector, text, special effects (Ansel Adams, Orton, Dragan), natural elements (rain, snow, frost, rainbow, sunset), etc.